eBooks That May Interest You

After meal around 2:50PM, I went to a mini market beside the mamak restaurant to buy a bottle of black Chinese Writing Fluid and a plastic bowl. I drove up to Melawati hill as I first thought this is a perfect location to view the partial sun eclipse [also known as the annular solar eclipse] between 3pm and 5.45pm.
I took out the plastic bowl I have bought. I position it on the back of my car. Then I pour in the black Chinese ink, added some water and I look at it through the bowl of black ink.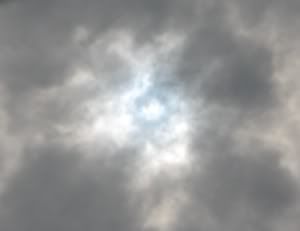 I have noticed that large grey cloud have been moving toward the sun and covered it. It seem like there is a kind of "force" attracting the cloud there. I managed to snap this picture just before the soft cooling wind began to blow. This place not may be a good place to view the eclipse.
This might not the good tools to use to view the eclipse as I noticed that each time the soft wind blew, it will affect the calm ink on the bowl and the movement made it difficult to view. Then why I am using this method? Who teach me?