eBooks That May Interest You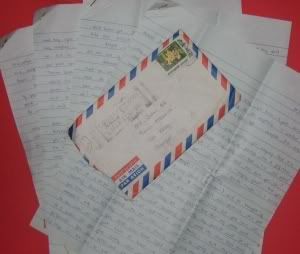 I received this letters from Sharon today. Quickly I opened it and read. All together 4 pages. Here is the mails content
[REF:302JLNH2MELAWATI]
27th September, 1984
Dearest Stephen,
Hello there! Sorry for the late reply. Rather lazy, you know. I just don't know why, this few weeks, I seem to be rather lazy to do anything. I wanted to do what I want to do but when I get to it, I feel ugh…. lazylah. But anyway, there you are, reading my letter now.
Well, I should say "Thank you" to your family for saying that I'm rather cute but they are wrong as I'm not that type of plump, tie 2 pig-tails and… you know those cute girls lah. Maybe they say I'm tall, I'll still admit it but I want to be taller, say 5 feet 6 in – is that too tall for me? But not as tall as the girl "Ko Koh Yan" in the movie "Happy Ghost". Did you see the show? Well, that's another movie coming up – "Double Trouble" I wonder when am I going to see it. Maybe, coming Monday.
Yesterday, Shee Keong came to my house (Muharram) and we thought of going for a show but then we didn't go. Please don't misunderstand. It's not only me & him but also my sisters. He did called you along but you were not in. Actually I want to go to Genting with my parents but then my sister said go there doing nothing and rather lazy too. So only my parents went.
So we stayed at home – chit chat & went shopping for a while lah. Then Shee Keong left at 5.00PM 'cos he got an appointment with Francis. I think they're meeting Francis's girlfriend, the one who is said to be going to Japan. You know who? Actually, is she or is Francis like each other? Oh no, I shouldn't ask you. You don't even know right? But yes or no, it has nothing to do with me. I just want to know if she is my 4th brother's girlfriend
As I know, all you five lucky stars seems to be trying & busying with girlfriends. You see after our exam, I heard about you & the library supervisor, Chong & Lip Thye or the one he met in college, Francis… I don't know who lah, Cheok don't know yet, Shee Keong – 14 wifes (not sure) … oh no more. Hey, don't take this seriously, you know. I was just joking with you.
Alright, enough of this girlfriend's stuff. Let go back to your letter. Hmm…. let me see if there's anything I got to reply. Hmm.. mm.. yes, here it is: Although, you think that you are brave enough to approach girl but I do not think so. You see, Chong and Cheok have changed a lot. They're beginning to talk more, to have more idea. I can see the difference. But everyone said that everybody have changed after our course (that includes me, but I don't see any change in me) except you. You're still the same old quiet Stephen. Everyone said, no one can make you more talkative (don't mind eh!) Maybe only one person, that is … not me this time but the library supervisor… Ha! Ha! Ha! Hey! Actually what's her name, hah? Don't mind telling me?
Actually, being a good & quiet boy doesn't mean no good. I like quiet boys, you know but not those dumb one lah. Those who know when is the right time to talk & when not, right? I know you will change when you start working. Everybody is like that. Even me, I can't said I didn't change in 2 or 3 years time, right?
Now, thanks for reminding me something. You know what is it? It's about the Valentine Card. I've wanted to thank you so long ago but I keep forgetting. Old already (remember… you saying that I got white hair?) Have to get rid of it. Must think lesser. You know something… few days before Valentine's, I received your card. I was surprised & shock but glad to receive it because never in my life have I ever received such card. So, what I do is…. I immediately open the card to see who is it. Unfortunately I don't know who as it was not stated (the name) So I said to myself… Who is the one? I kept asking myself. I try to recognise the writing but you were intelligent. You even change your handwriting! Of course I'm not going to tell you who are the one I guess. But I do guess it was you too. And on the other hand, no.
The next day after which I received the card, at college, I try to see whether you give any reaction…. I mean asking me if I received your card or…. etc. But no. And it took me more than 2 weeks to find out exactly that it was you. You know how I got to know? Well, from the address you wrote. Only you write "Taman Salak South" so I guess it was you. I wanted to thank you & ask if you're the one who send it but I'm afraid I might go to the wrong person.
And every time, when I reply your letter, I forget. Anyway, thanks for the card. So you want to see whether the theory in the newspaper is correct? I'm sorry I don't know anything about it. Do you mind telling me? Thanks.
Well, you should thank Shee Keong too as he had helped you to get to know "Library Supervisor". Not bad ah! See, don't have to worry you can't get any girlfriends. Actually, although you look quiet but the way you dress didn't tell it. Honestly tell you, I like the way you dress. At least you are keeping with the up-to-date one. I am not saying that other 'stars' are wearing old-fashion clothes but some people have different ways of dressing and they all are neat and suitable for them. My mum used to say that you all are well-mannered, polite & nice guys to be friend with. Really. I've never have friends so great as you all. I really appreciated our friendship. So Stephen… Thanks for being my best friend.
Once again, thanks for all your presents for my birthday. The card, the flower, tables & chairs & the scroll… it's beautiful. Why do you have to waste so much money? It's not a grand birthday party, indeed.
I'm sorry for having taken your song books for more than a year. But it's still in a good condition, right? Well, any damaged to the book? Hope no.
Thanks for telling me about the news in the New Thrill. I really don't know anything about it. I thought you were asking me whether that song is nice. But at least, we know the song. Better than the other two, right? Actually, I've written in for quite a long time, the song appeared but not the dedication. Do you buy New Thrill always? Or you just buy it if there's any nice songs? You see, most of us didn't buy New Thrill therefore none of us knew. I bought it already.
Well, do you have lyrics for any new song? What about "Break My Stride" ? If you have, can you give me? Regarding about the lyrics for the song you want, can I send it to you later? Because right now, I'm little bit lazy to copy. Okay!
I think I got to end here now. Oh! One more thing. Cheok called me and told me he's going to Ipoh again on 1st of October & will be back in 2 weeks time. He asked me to tell you. Alright, I write more in my next letter, okay. All the best. Bye!
From,
M. Fui