eBooks That May Interest You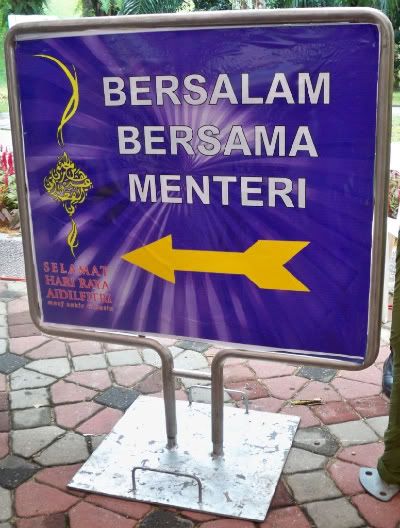 After tasted the foods & drinks, as I walked around I noticed that some people are holding "1Malaysia" souvenir gift on their hand. Some have it for more than 1 box!
I asked a Malay lady where she get the souvenir.
Myself: "Boleh saya tanya, di mana dapat ini?" [Can I ask, where do you get these?]
Malay Lady: "Kediaman PM." [Prime Minister Residence Place]
Myself: "Kalau tak pergi tak dapat?" [If I did not go I can't have it?]
Malay Lady: "Tak dapatlah kalau tak pergi." [Won't have it if don't go]
So I que up hopefully can shake PM's hand and get the 1Malaysia souvenir. I looked at my Blackberry phone and the time show 12:45PM and I looked at the long que ahead of me.
By logical calculation when it is the time for me to reach there it will around 1.30PM and I remembered that I have read from The Star that Prime Minister and Muslim ministers will leave the venue from 1pm to 2pm to perform Friday prayers at Putra Mosque.
If this is the case, no point for me to que up there if I can't meet  the PM.  It will be a waste of time so I just need to "scarify" the intention to meet the PM, Dato' Sri Najib Tun Razak and forget about the souvenir.
This mean that I will go back home with stomach full of foods
but minus the 1Malaysia souvenir gift.