eBooks That May Interest You

Prepare a poem specially for Caroline. After get everything done,  copy to thumb drive. Have lunch. Go cybercafe to get the poem printed. Back home to stick it on the card I have bought and place it in the Moon cake's box.
Online to check for the florist and have made 11 calls from 3pm – 4pm! Some have no answer, some not open on Sunday. There is one florist in Starhill that open on Sunday and when I checked the price, my goodness… so expensive! 1 single rose cost RM 150? Roses for RM 250? What kind of rose is that? 
The sale personal said it is imported.  Of course I knew it is imported but does it need to be cost so much? Today what day wor… just Sunday and not even a Valentine day. Correct me if I am wrong, single rose on Valentine day may cost from RM 12 to RM 80. This also depend at what places you buy it. And this RM 150 for 1 rose definitely out of my budget!
I even called one of my web friend (Camelia) that actually have a lot of business contact to enquire if she knew any florists that open for business on Sunday.  She asked me why not order from online florist and have it delivered? She said Blooming do it. Of course I knew Blooming delivered flowers for 7 days a week and it is one of the famous online florist in Malaysia but I said I want to deliver it myself mah…. more personal and intimate touch…. even more romantic mah…. and sincere also, don't you think so?
If need to deliver on my own then "susah" (difficult) loh because today is Sunday and most florists does not open for business except the online Florists Portal. She said she can't help me. Anyway, thanks for your help Camelia
I almost give up trying when I stumble upon a florist that actually open for business on Sunday. With the contact number displayed on the website I called them up. It is located at Damansara Utama.  I inquired the  price of single rose. It just RM 3.50! See? Do it necessary to pay up to RM 150 per rose like the one in Starhill? Nope… I don't think so.  If I want to spent RM 150 for the single rose I rather buy it from here
I told the Marketing Manager (Ellie Han) that my budget is around RM 20 and asked her what can I get. She said 3 roses, some other  violet  flowers and some little  white flowers wrapped together in  a unique design but she don't  know if I like the colour of the roses as they don't have any red roses at the moment. Since it is quite difficult to visualize what she have told me from the phone I said why not I dropped by her place then only see how.
After bath, on 5:10PM I drove all the way from Wangsa Maju to Damansara Utama just to get these roses….! Me romantic, right? Hmm… Does Caroline ever know about this?  Well… If she read this she will know….
I reached there around 5:30PM. It was drizzling then. The moment I walked in, I saw the Marketing Manager have almost finished with her personal touch… Wah! So good service ah… I have not yet decide on the flowers…. she almost finished wrapped it up. Well…. anyhow I sure like it! She the one who have saved my day…. If I did not found her…. wonder where to get the flowers for Caroline?
When Ellie saw me she told me that RM 20 (minus the 2 bears) is not enough. The one she have wrapped  up cost around RM 30. Since I need the roses today…. I said OK loh! As I looked around her shop, I noticed that if putting up a doll on it then it should look more nicer. I asked her how much does it cost if I want to add up a pair (boy and girl bears) she said RM 55. Since this is the first time I gave flowers to Caroline…. without thinking much I agreed loh!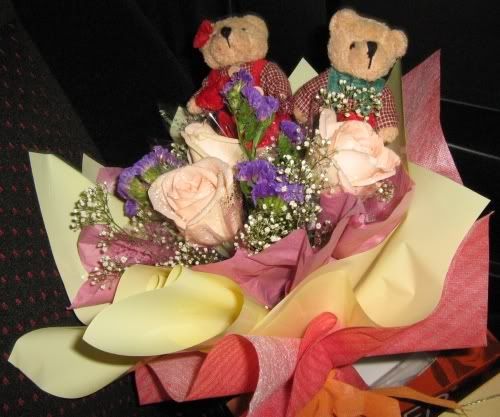 After paying her, I took the roses to the car and have some photos taken. This is her (Ellie) final touch! Do you like it? Will Caroline like it? This have to see when she received it.
Then I drove from Damansara Utama to Bukit Bintang. If calculate the mileages… (From Wangsa Maju to Damansara Utama and then to Bukit Bintang) I think it is about 30 ++ kilometers! Wow! Never in my life I have done this. Drove a distance just to get some flowers for a special lady on a special date 240808.
I reached  there around 6:00PM, parked my car in the carpark and took the final pictures

before looking for her.
=> This picture was taken using Canon Power Shot A460.
This two was taken with Nokia N2630 Mobile Phone