eBooks That May Interest You

As I read Nicole Tan's blog (Nicolekiss) she have stated that she is looking for more information about the Blackberry Curve 8520 mobile phone.
[24th September, 2009] – she said "The day has come. Soon I will own my very own Blackberry. *BIG SMILE*" From the comments of her readers feedback, the price of the phone range from RM 699 – RM 1999.99! So which one is correct?
[27th September, 2009] – she said, "Anyway, I figured by now the price for Curve 8520 should be out two days ago, since I've been traveling for the past few days, I was wondering if anyone found out the price for the phone already. Ermm…"
From her posts in facebook,
27th September, 2009 – "I miss having a blackberry. And I never own a blackberry before! Oh btw. Blackberry Curve 8520 has already been revealed two days ago! I'm in Cha-Am so I can't keep track of it! Does anyone know what is the price for the New Blackberry Curve 8520 yet? I'm in Cha-Am, Thailand. Can't wait to find out the price."
As her reader in The Star newspaper, her facebook, her blog (once a while)
  I decided to do her a  favour. I just try my best to find if I can help her with this information.  For days I have browsed through the newspaper, finally I managed to dig out this article. I took a snap shot of it. Back home, I uploaded to my facebook and tag her.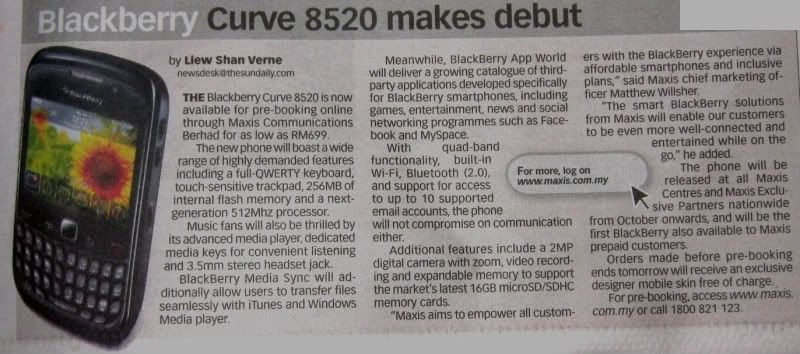 As I read the article, RM 699? Hmm.. consider cheap. I followed the link to Maxis website and I placed an online booking. Any other hidden charges by Maxis? I don't know. After finished with the registration, a message displayed that Maxis will contact me when the phone is available.
Later while preparing this blog, I saw Nicole  online in facebook. Yes! She is back to Malaysia now but she did not mention anything about it. Didn't she saw the picture I have uploaded?  I wondered… so I decided to chat her up.
4:13am Stephen: I have posted the blackberry information for you to take a look. With RM 699 you can get the phone now.
4:13am Nicole: O.. really. so cheap? How come?
4:13am Stephen: Look at the picture in your album. Information is there. So do you like the information? I have took days to find it…. finally I got this one. I don't know if Maxis have any hidden thing behind? But I have made one reservation for myself.. ha! ha!
She did not response.
Maybe busy updating her blogs of her recent trip to Bangkok, Thailand. Well… anyway, what important is, I finally finished blogging about this Blackberry Curve 8520 phone.
If you want to read about her interview with KOSMO! <= Click here.