Tuesday, 23 November, 2010
Monday, 4 May, 2009
After lunch at the McDonald, I have been thinking where should I go next? I looked up the sky. The weather is good, sunny day and did not show a sign it going to rain today. I remembered that I have been passing by the Zoo many times (each Tuesday, Thursday & Saturday) The location of the Zoo is just next to Taman Melawati (Phase 6), Hulu Kelang, Selangor Darul Ehsan.
Though I have stayed near this place for so many years. I only visited it once. That was many years back. I have forgotten which years. Well since the weather so nice, how about visiting the Zoo today? OK… That fine. Maybe can look around to see what kind of animals left and at the same time can take some pictures for my blogs
Sound good, I can also promote Malaysia National Zoo (Zoo Negara) to blogs visitors or readers.
As I arrived at the car park, first thing I did was checking out the parking rates as I going to spend several hours here. It was 1:45PM that moment. As I looked around I saw a board stated that it is RM 4.00 per entry for weekdays. Well it is reasonable as I no need to pay by hour rates.
After parking the car at less hot & heated area (which is under a tree) I walked to the junction of the Zoo (beside Hulu Kelang Highway) to get some pictures.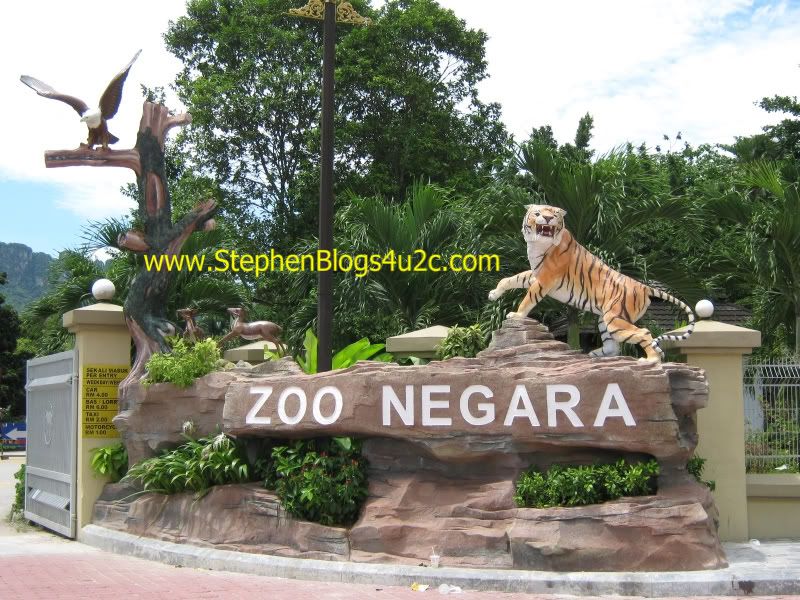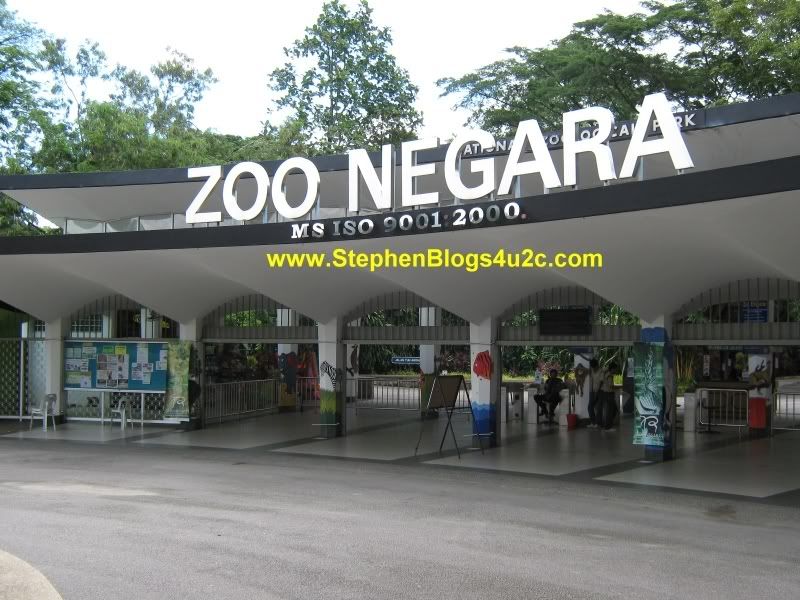 OK, enough of those outside the Zoo pictures. The purpose I came here today is to snap some pictures of the wild animals not the pictures of the Zoo building and surrounding garden.
As I headed to the ticket counter I noticed a sign stated that if bring camera or video camera need to pay additional RM 15.00! Wa lau eh… like that also want to charge ah? I quickly hide my camera inside my pant pocket. When I reached there, I asked the ticket seller how much it cost for 1 single adult. She said RM 15.00, like it or not have to pay or else what the purpose for being here? Luckily she did not bother to ask if I have camera (video camera) Even if she asked, I think I will tell her lie…. "No, I don't have!" Unless she do my body search or if there is a special device there to detect the present of camera.
Then you need to pay another RM 15.00 for your camera?
While paying I have been thinking if there is any free travel (that including everything) where I no need to pay for the entrance tickets, camera  etc and some more have pocket money when check in the hotel? I remembered there is one…. hey that is the business I am doing now! When go traveling everything is free! You want to know what business that can give you these…? Then made an appointment with me and we can discuss about it.  I only afraid  that when we are discussing you will do 2 of these reactions
You are so excited and you want to be part of it (1-5% people will do this) OR
You will jump up from your chair… and even spell out the word "A _ W _ Y!" (About 95% people choose this) This also explain why many people want to go travel using his or her hard earn money. Why people don't want when there is free travel waiting for them? Hmm.. something to think about.
Oh yeah! Why am I talking about these? Ha! Ha! Now at the Zoo… Let talk about the Zoo… OK, after the RM 15.00 payment, I was given this wrist band. It time to go in when the wrist band have been scanned by the bar code reader.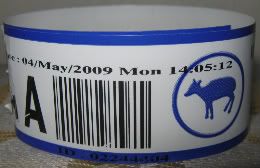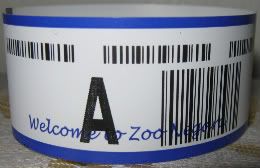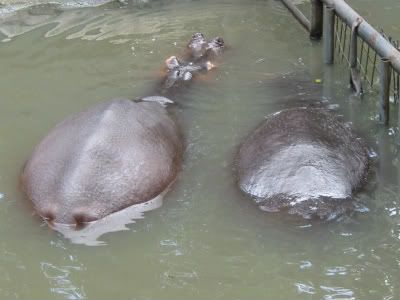 Hello animals! Here I come! I came, I saw, I snapped! The first animals I saw when inside the Zoo are these Hippopotamus. Both sleeping under the water.
Stephen: "Hey! Wake up! I need your photos!"
Hippopotamus: "Pay attention to you is an idiot. We better sleep"
Stephen: "OK.. OK! Keep on sleeping! I will be here for many hours. Soon there is a chance I will able to shoot you! Just wait and see!"
I moved on from one place to another for other pictures.
Sample Bee Species From The Bees House
Apis Melifera (Lebah Itali), Giant Black Honet Vaspa, Compsomeris Sp Scolidae (Lebah Tukang Tanah Lumpuh), Sphex Lchneumoneus Great Golden Digger Wasp (Tebuan Mas)

Sunday, 1 January, 1984
Wake up 9:00AM, brushed my teeth and do some laundry. Goes to college at 11:00AM and took lunch at TBR (Taman Bunga Raya) Jalan Genting Kelang, Setapak. Do some revision on Accounting and Data Processing. I spent more time in Accounting.
Thinking of phone Sharon but afraid her father will receive my call so I did not do so.
Took dinner at 5:00PM and 'ta pau' (packed back food) for my room mate, Yong. Back to Taman Melawati, Hulu Kelang at 5:30PM. Upon arrived, saw Chiew (the other room mate) back from hometown, Kluang, Johor.
Went to mini market with them and bought something. Backed to the house, listening to songs.
At night chit-chatting and joking. Thought of wrote letters to my pen-pal but no idea coming out from my brain so stop writing then.
Went to sleep at 10:45PM but these two guys (Chiew & Yong) kept on talking and I cannot sleep. Midnight – they said they are hungry. We all woke up to cook something to eat and at last I doze off.