eBooks That May Interest You

Hari Raya Open House – Rumah Terbuka Hari Raya Aidilfitri 2012
I am compiling a list of 2012 Hari Raya Aidilfitri Open Houses. If you have came across any other source you can leave me a comment.
You can eat as much as you can, if you take a lot of foods and wasted it, you better stay in country where people died of hunger everyday then you will know how to value and appreciate the important of foods. Believe me, one day the foods will  make you pay for what you have done.
If you "ta pau", " packed" or "bungkus" foods back at the beginning or middle of open house, it show your lowest morale standard.
If you only "ta pau", " packed" or "bungkus" the left over foods AT THE END OF FUNCTION it show your higher morale of standard as you help prevent food wasted.
Listed below are the list of open house available
1st Day Hari Raya
Melaka State Government Hari Raya Open House [Source]
Location: Melaka International Trade Center (MITC)
Date: 1st Day Hari Raya
Menteri Besar Kelantan, Datuk Nik Abdul Aziz Nik Mat Open House [Source]
Location: Personal Residence, Kampung Pulau Melaka, Kota Bahru
Time: After Solat Sunat Aidilfitri
Date: 1st Day Hari Raya
Rumah Terbuka Pemangku Raja Kelantan [Source]
Location: Istana Negeri, Kubang Kerian, Kota Bahru
Time: 10.00am – 12.30pm
Date: 1st Day Hari Raya
Yang Di-Pertuan Besar Negeri Sembilan Open House [Source]
Location: Istana Besar Seri Menanti, Kuala Pilah, Negeri Sembilan
Time: 10.30am – 2.30pm
Date: 1st Hari Raya Day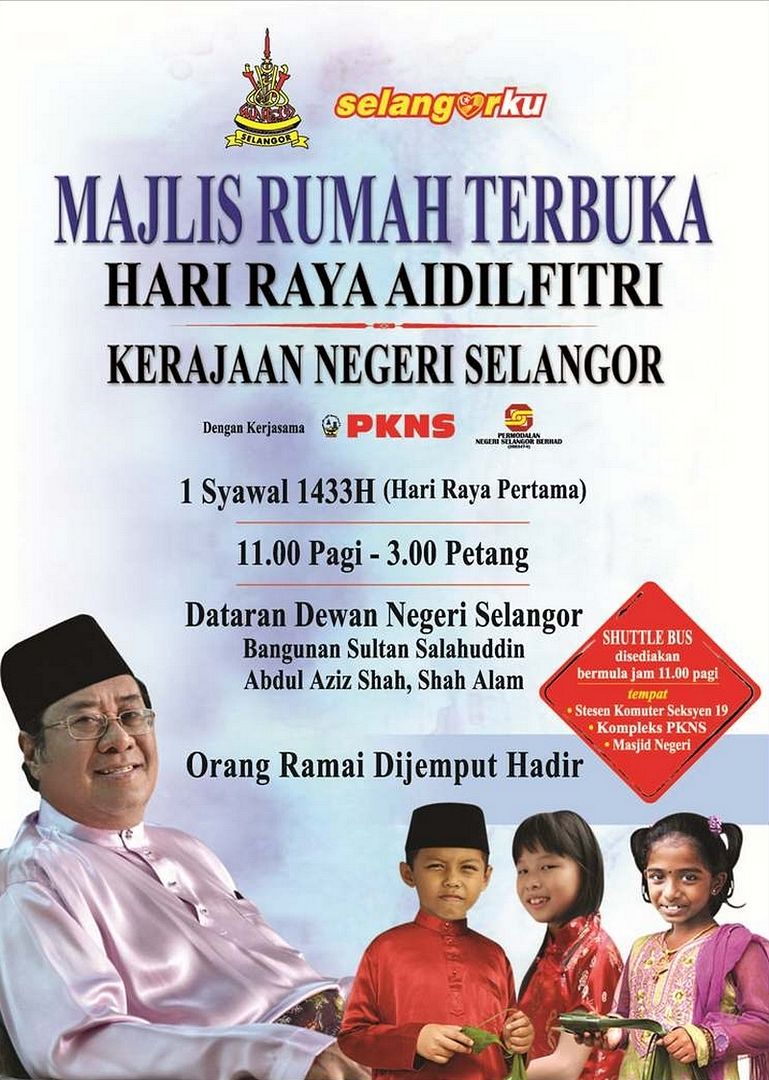 Pakatan Rakyat Selangorku Majlis Rumah Terbuka Hari Raya Aidilfitri [Photo Courtesy From (Mdks.gov.my)]
Location: Dataran Dewan Negeri Selangor, Bangunan Sultan Salahuddin Abdul Aziz Shah, Shah Alam
Time: 11:00am – 3:00pm
Date: 1st Day Hari Raya
Prime Minister Datuk Seri Najib Tun Razak Hari Raya Open House [Source]
Location: Seri Perdana, Putra Jaya,
Time: 1:00pm – 6.00pm
Date: 1st Day Hari Raya
2nd Day Hari Raya
Sabah Chief Minister's Department Hari Raya Open House [Source]
Location: Likas Sports Complex Multi-Purpose Hall, Kota Kinabalu
Time: 10:00am to 2:00pm
Date: 20/08/2012 (Monday)
3rd Day Hari Raya
Rumah Terbuka Menteri Perdagangan Antarabangsa dan Industri, Datuk Seri Mustapa Mohamed [Source]
Location: Personal Residence, Darulfalah, Batu 11, Jeli, Kelantan
Time: 10.00am
Date: 21/08/2012 (Tuesday)
4th Day Hari Raya
Rumah Terbuka Timbalan Menteri Kewangan, Senator Datuk Dr Awang Adek Hussin [Source]
Location: Dewan Haji Hussein, Perupok, Bachok, Kelantan
Date: 22/08/2012 (Wednesday)

Rumah Terbuka YAB Menteri Besar Kedah Dato' Seri Diraja Ustaz Azizan Abdul Razak [Photo Courtesy From (MyKedah2u)]
Location: Personal Residence Seri Mentalon, Alor Setar, Kedah
Time: 11.00am – 4.00pm
Date: 25/08/2012 (Saturday)
Majlis Bandaraya Shah Alam (MBSA) Hari Raya Open House [Source]
Location: Dewan Banquet MBSA
Time: 11.00am – 2.00pm
Date: 29/08/2012 (Wednesday)
Majlis Perbandaran Kelang (MPK) Hari Raya Open House [Source]
Location: Dewan Hamzah
Time: 3.00pm – 5.00pm
Date: 30/08/2012 (Thursday)
Gerakan Hari Raya Open House [Source]
Location: Dewan Wawasan Level 4, Tower 1 Menara PGRM, No.8 Jalan Pudu Ulu Cheras 56100 Kuala Lumpur
Event Time: 11am – 2pm
Date: 02/09/2012 (Sunday)
Prime Minister Datuk Seri Najib Tun Razak Hari Raya Open House [Source]
Location: Taman Tasik Sultan Abu Bakar, Pekan, Pahang
Time:
Date: 18/09/2012 (Tuesday)