eBooks That May Interest You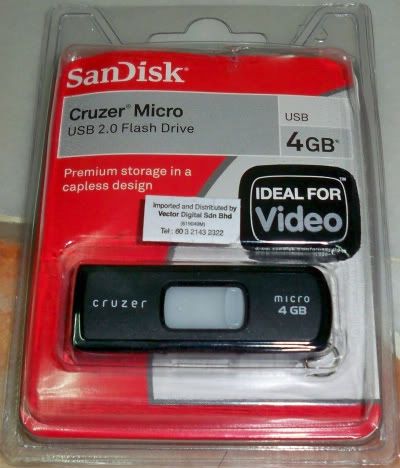 After the unpleasant experience I have recently when I "not purposely wipe out" my own 500+ GB Hard Drive while using registry cleaner software  to cleaning up unwanted registry, I think it is time for me to use flash drive (thumb drive / USB drive or whatever name) more frequently to store  the data instead of using hard disc.
This Sandisk Cruzer Micro USB 2.0 Flash Drive 4GB is ideal for video (MP3) It is a premium storage in a capless design. I have got it for free when I redeemed the points accumulated from my RHB credit card. I have kept it on the table to collect dust for months. If not mistaken I have this drive since January 2010.
Advantages (or disadvantages) of USB Thumb Drive
Compact, easy to carry (easy to misplace and easy to lost it as well)
Backing up to computer or other storage is fast and easy. Not time consuming. We can do it every time before we off the computer.
When we have run out of storage space, it reminded us that it is time to do transfer or burning it to CDs or DVDs. Just in case we have lost this little wonder, we don't loose everything.
It advantages (also mean it disadvantages) of using hard drive
Technology advancement have the capabilities to develop more compact hard drive from the smallest 10GB to the largest storage. That mean it open up even more data will be lost when the drive is lost or crashed.
People using hard drive seldom doing additional back up copies as most of us like to take thing for granted. Reason – to do another back up or burning it to CD or DVD will take damn hell long of time and it is damn boring process. This is true. when most of us will say, "may be we can do it tomorrow" and these days passed until finally unwanted incident happened. If can recover then it better than nothing. If can't then how? What we have done, the effort, time we have spent over the years and the most important thing is the priceless data will be gone forever.
Yes it is true that using hard drive may allow data to be find more easily if compare with storing to CD or DVD but once it malfunction you want to find also cannot. With the CD or DVD it is still there though it need time to go through the CDs, DVDs one by one.
My advise is don't leave home without a thumb drive. Use your hard drive only as a back up storage and not as part of the day to day tool. Frequently spinning of the hard drive or over heated it will "kill" the drive soon or later. Storing data in a piece of plastic (CD or DVD) is not 100% perfect but it is still the best storage of all. The lost of data in hard disc mean you lost everything. The scratches in one or two CD or DVD mean you only lost something. To prevent this you can burn more than 1 CD or DVD of the same piece (same contents)
I hope by changing the way of doing thing will not give me headache and unnecessarily problems later.