eBooks That May Interest You

Around 7.00PM I have arrived at Prima Setapak. I called Zoey a few times but she did not answer. Later she called me to ask me where I am at the moment. I said I am in front of Taj Corner (owned by Leng Yein) and she said will be coming down soon.
When she sat in my car, I told her that I need to fetch Jacquelyn too as her friend have been oversea, so she have no transport to go to Likemind Gathering.
Zoey told me that Eric and Raymond have planned to eat Laksa at Old Klang Road but I afraid that we can't make it as it will be very jammed during that time. Zoey then called Raymond to inform him of our situation. Finally they need to cancel the plan. Raymond then suggested that we have our dinner at the Malay stall opposite to the OldTown White Coffee.
We arrived there around 8.20PM and I let Zoey and Jacquelyn to go down first while I parked the car inside the car park. Then I joined them for dinner. We then joined the rest of Likemind members around 9.00PM
As usual, we started off introducing our self, exchanged name card, chatting & discussing. Carolina and her friends came around 9.40PM. We all left the OldTown White Coffee at around 12.00PM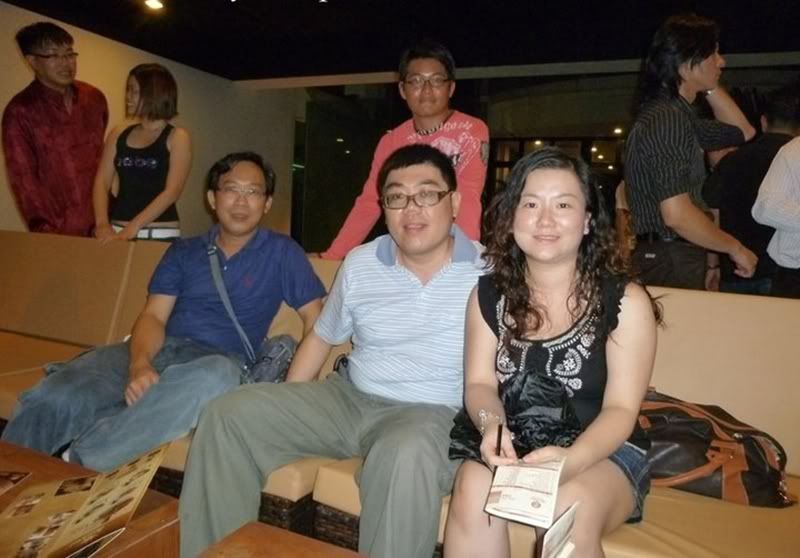 Stephen, Kevin Tan & Michelle Hew
Next coming gathering will be: [View Map]
Date

: Friday, May 21, 2010


Time

: 8:30pm – 11:55pm


Street

: Jalan 112h, Kampung Kerinchi, 59200, Malaysia


City/Town

: Petaling Jaya, Malaysia


Location

: (Bangsar South Outlet)
The Likemind initiative brings like-minded people from more than 60 cities around the globe together on the third Friday of each month to share ideas, enjoy coffee and network face to face. Yes, it's a chapter found various countries likewise from it's origins in the US of A.
Interestingly, I found-out from Remus that Malaysia is one unique 'party' where instead of meeting like-minded friends-to-be in a Starbucks, there's an alternative franchise coffee-place right in Old Town White Coffee as our current 'hot-spot'.
Likemind meetings doesn't have structure; they are free, organic and without agenda. Participants exchange ideas, projects, tips, and contacts, while also discussing around what's happening in their cities, the 'net, art, business, and culture.
The initiative came from trend consultant Piers Fawke from PSFK and Noah Brier, the head of strategic planning at the Barbarian Group in New York. They have been gathering creative minds for over two years under the simple and powerful idea of Likemind meetings.
All are welcome. Bring along your business cards and get ready to share ideas.
The conditions to participate.
You must have facebook account (optional) – The reason to have the facebook account is because

It is the only tool organiser communicate with members (ie about next coming gathering, latest news, upload events pictures etc)

Become member of this group [Likemind Malaysia]
Respond to their event invitation. (Gathering is fix on every 3rd Friday of the Month)
Yes! You can bring friends along. No limitation.
You only pay for the foods & beverage you have ordered.
Follow organiser rules & regulations
Start networking, don't sit there do nothing. This is the place you want to mix and mingle around, right?