Sunday, 10 May, 2009
Thursday, 25 December, 2008
Wednesday, 24 December, 2008
Thursday, 11 December, 2008
Sunday, 24 August, 2008
With this on my hands I walked in her office. Caroline may not surprise to see me as I already informed her that I will come over to see her today. What she may surprised is to see these gifts!
Those moment she noticed the moon cakes box, straight away she recognised it! Why so? Well… this is because her sister, Tina was in this business too… so it not surprise if she knew it is mway moon cakes
As she saw me walked closer, she asked,  "For me?" I nodded my head agreed. She then asked from whom, I said it is from me.
She took the flowers and looked at it, smiled and walked out from the counter and stand near me.
"These for?" I heard her asking. I said, "Today is 24th August…" she said, "And?" I told her that last 2 years… on the same date she have sat in front of her computer, logged in Rankstudio and have commented on my blogs for the first time! (24082006)
She then said, "So this is 2nd years Anniversary!!?" Of course it is! She then said I can remembered ya… but I said that not really that I can remember, it just that when I have checked through all my previous blogs in Rankstudio only then I knew!
She suddenly spread her arms wide apart and come to hug me! I was stunned and surprised for a moment  but basic instinct automatically told me that I should opened my arms wide to accept her hug too! I heard one of her colleague said "So lucky"
I also think so. After what I have done, don't you think so I deserved the hug? Beside…  Do you think you can easily get Caroline to hug you ah?
If for no reason…..
She take a look at the flowers again, touch it… and said, "Are these real flowers?" I answered yes and she smelled on it deeply…. I asked her if she will be free tonight as I can wait for her at Starbuck.
"I don't think so. It will quite late after work. I will call you tomorrow. You tomorrow no work right?", I heard her saying this. I told her that I was not working tomorrow and looked at her… then I asked if she like to take some pictures with me. She said not in the office area as her colleagues was around.
Then she looked at my T-shirt) "Hmm…! Dogs Of Malaysia!!!" She said. That moment I was wearing a black T-shirt that contain 20 characters of dogs. This T-shirt is a free gift from HSBC Bank when I claimed the  credit card points. I asked her "So which one is you?" And she moving her fingers to search for it ….
I looked at it and help her pointed it to the "Playful" character. "Hmm… Playful?" She then nod her head to agree.
As I walked to the shop entrance/(exit) she accompany me. "So… It have been 2 years! How fast time flies" I gave a pat on her shoulder and said, "There is an important message inside the moon cakes box. You can share the moon cakes with your colleague loh!" I walked away.
When I am inside the car, around 6:35PM she SMS to said sorry as she can't talk longer with me as her colleagues are all there today, and it is not nice to see at her work place and she said she will call me tomorrow. I replied her saying it is ok and not a problem
Hmm….. I wonder what she will think about the poem I have specially written for her?
Definitely after today…. I will remembered her hug for a very long time…..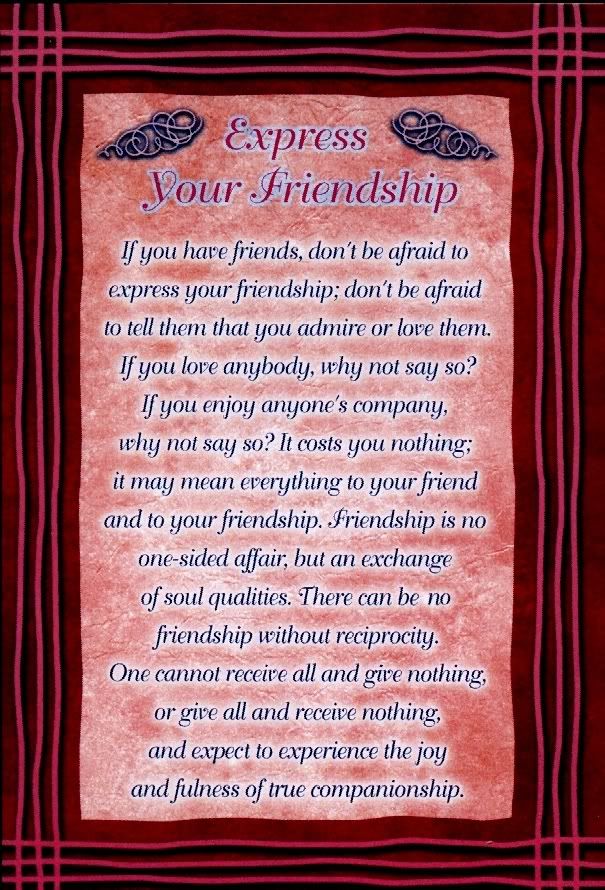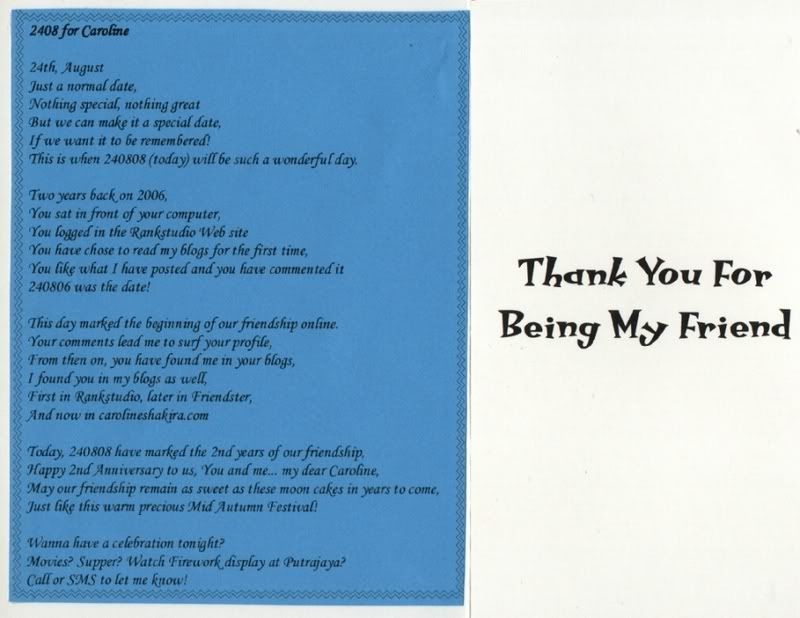 You may have asked, why I gave her the moon cakes? If you have read the poem above then you will know the answer. Me good in writing poem? When you read this poem what do you think? Sentimental and romantic?  (Many year backs I have written some poems but those women that have read it never know how to appreciate it. Then I have stopped writing for many years…. )  At least from what I have done today… Caroline did appreciated it. I can feel it. Thanks for being a friend!

Thursday, 26 June, 2008
Saturday, 30 June, 2007
Sunday, 3 June, 2007
Older Posts »