eBooks That May Interest You

6:45AM After parked the car, I opened the car boot to take out my sport shoes and wore it. I saw a car (light green Myvi) parked in front of me. From that car back window I noticed that the car owner is a lady. How I know? Saw long hair mah …
I don't bother much about her so I continued to wear my shoes. She came down from the car and I looked at her. She looked at me and I smiled, she smiled too and she asked me, "Are you Stephen? I am Tina!"
Oh… my goodness! Never did I dream or come to know I will meet Tina there early in the morning! She really surprised me! Anyhow I am happy to see her there too! She walked closer and I gave her a handshake and I told her that her present at DIGI HQ really surprised me. Finally I met her! All this while I have seen her photos in Friendster and Facebook. I have heard some info about her from her sister, Caroline Fong. She actually look much better than her photos. Please don't get me wrong as I did not mean her look in photos is not good, but her actual self is much more sweet and much more pretty.
She told me that she will see me around the guard house. After I got everything ready I walked toward the guard house and saw Tina there. I joined her. I told her that I actually lost a while … while finding this place until some Indonesian workers by the roadside redirect me back then only I managed to find this place. She said she have checked out the direction yesterday. I said I didn't do so as I just came back from Seremban yesterday night.
My first task for the morning is to be at Pusat Bandar Damansara 10:30am sharp to monitor the arrival of bus No. 1, I left DIGI HQ at 9.50am and everything seem to be smooth at the beginning until I missed the junction to NKVE Highway. Ahead of me is Bukit Jelutong Toll Plaza and it have signboard to Kota Damansara. I felt something must went wrong and stopped by the toll plaza to enquire the direction to Pusat Damansara Utama. The staff there said can go from here. He said after toll turn left, after traffic light go straight. When I did that the road seem to get smaller and seem like trunk road heading to Sungai Buloh and I saw a few more traffic lights in front. No only this, I have stucked there for 10 minutes.
The more I drove the more I am out of the direction so I U-turn back and got stuck again on the same traffic lights for another 10 minutes. That moment already 10:20am. Damn!  Now how to go back the main highway? I suppose to be in Pusat Bandar Damansara by 10:30am! By the time I found my way back to the Highway it is already 10:30AM! 5 minutes later Ravi called to check where I am. I said still not yet arrived as I lost my direction. He said can I be there before 11:00am? I said I try. Then Jester called to inform me his team bus is on the road that moment.
10:40AM Tina later called to ask me my exact location. I also don't know where I am
She asked me if I can find my way to Federal Highway? I said I looking for it. Minutes later later I saw the Federal Highway signboard and I told Tina I found it. She asked to go to Federal Highway.
10:50AM I am in Federal Highway and I called back Tina. She asked me to use the Fedaral Highway way to Pusat Bandar Damansara. Jester called up and said that he already reached Pusat Bandar Damansara and the troopers all getting down the bus at the moment. Damn! I am still at Federal Highway! Later I called up Tina to tell her that Jester have been arrived and the troopers are getting down the bus, so no point for me to go to Pusat Bandar Damansara that moment as I almost reaching Mid Valley. I told her I rather be in Mid Valley to get thing prepared. I heard Ravi told Tina that I should be in Pusat Bandar Damansara. Of course I knew I should be in Pusat Bandar Damansara but since the troopers have been arrived earlier than me, I feel it will waste of time to rush there.
After "failed" to do my 1st task properly, I want to make sure that the task 2 and task 3 must be done properly. Task 2 is to be at Mid Valley. Task 3 is to be at 1 Utama.
Around 11:10AM, I arrived at Mid Valley. After parked the car in the car park, I called up Ravi to inform him my status but just cannot reached him. So I called Tina instead and told her that I have already arrived there and she informed Ravi about it. Based on my checklist, I need to buy lunch for my team pilot, Jester. When at DIGI HQ I have checked with him what he want for lunch, he said McChicken set. As I passed by the McDonald, I bought the lunch for him.
Later I asked the security guard the main entrance for the North Court and he show me the direction. Based on the photo description, I checked out the location for buses drop off area. Then I checked with the security of location where busses can be parked. He told me at the back near to The Gardens. I have asked him how many busses can be parked there. He told me about 10 busses. After confirmed the safe location I move back the main entrance and have something to eat at the nearby cafe. I chose a packet of Nasi Lemak (Coconut milk rice) and a glass of teh tarik (Pulling tea?)
  While having my meal, Tina have called me up to ensure that I have checked the Drop Off Area. I told her that it have been done.
11:37AM  She SMS, "Hi, can you manage to get a parking to bus?" I called to tell her that I have inquired the security guard there and said there is a place which can parked about 10 busses at Garden, Mid valley.
12:31PM Joel called me to ask me where I am that moment. I asked him to go straight to the main entrance and he will see me at the cafe beside it. He told me that Ravi have informed him that the bus driver need to park the bus first before drop off the troopers. This to ensure that they knew where the bus is parked. I told Joel about the parking place and asked him to go there with me to check it out. We then walked toward the back of The Gardens. This place indeed can park several buses in 2 rows. Joel & I called up our Pilot to inform them the parking location when they arrived.
As we walked back from Gardens to the North Court, Joel said he need to buy lunch for his team Pilot, Daniel. And I walked back to the main entrance, around 12:56PM, Daniel called me to inform me that his team have arrived and did not see Joel. Ai ya… This guy Daniel… should called Joel directly as he is the Commando for bus 2. (I am in charge of the arrival of bus 1) I quickly called Joel to inform him of Daniel arrival. As I hanged up, Jester called to inform of his arrival. I asked him to go up straight and he will see me by the roadside. As soon the bus driver saw me. He stopped and I goes up the bus to lead him to the back of Garden as the place more save and less traffic.
After all the troopers goes down I lead the bus driver to the place where he can parked the bus safely.  After everything have been goes smoothly I passed the lunch I have bought to Jester. Later when Joel saw me,  he told me that Ravi need me to report back to him. I called up Ravi at 1:11PM to inform him that everything is OK.
1:30PM I left Mid Valley and drove toward to 1 Utama and reached there at 1:50PM. After parked my car in the car park, I goes to the New Wing and noticed that Tina and other event organisers have been already there. After a brief chat with her, she said I suppose to wait for my team to come over and lead them here. I quickly moved to the main entrance to look for them but I did not see them. When I was there the other teams have been arrived batch by batch. While waiting I managed to snap down these pictures.
Joanna Bassey was the invited guests for this events.
As I busy snapping all those pictures above, I saw Tina there and decided to "candid" shot her but she saw me pointed the camera toward her and she gave me this pose! Nice? Surely nice. Look so natural and this is my favourite!
Tina Fong Ting Ting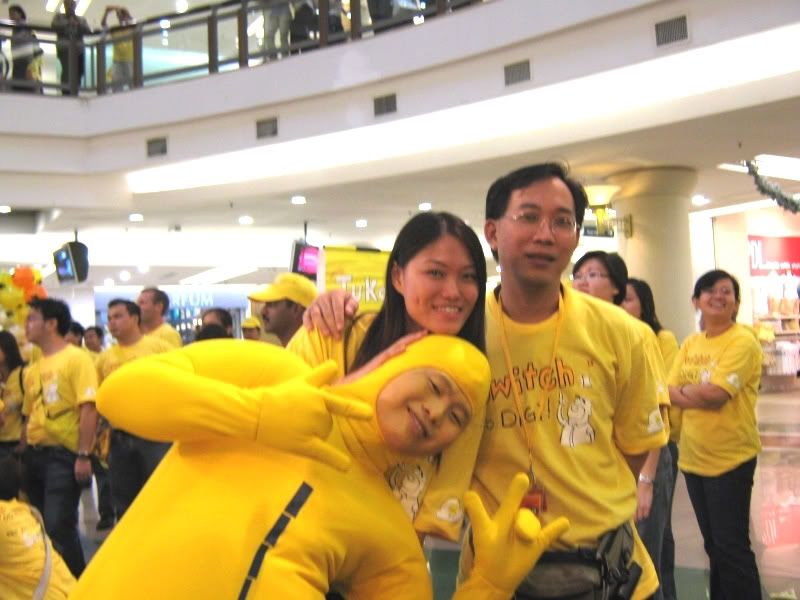 The DIGI Yellow Guy, Tina Fong & Myself
When I looked back this picture I want to laugh (Ha!… Ha!) as I knew why Tina's hand pressed on this DIGI Yellow Guy head! He have been naughty and being bad as he try to block Tina's head from the camera. So the best thing she can do is "pressed" his head down. This is where we got this shot.
Finally most of the troopers have arrived and the hall filled up with yellows. 2:47PM Ravi called me up to check if everything is OK in 1 Utama. I informed him that everything have been going on well here. Around 3.10PM the MC announced the end of the events and we all can go for lunch before heading back to DIGI HQ at 4:00 PM I asked Tina if I need to be with my team to have lunch. She said it is better. So, I used the escalator to go up 1st floor, I have been calling Jester for so many times but he did not answer and at last I got him. I asked him where he is taking his lunch. He mentioned some name and  I asked him where. He don't know where and I also didn't know where to find him. I asked him if he is with the team. He said no. He said we can have free lunch at any restaurants with the DIGI reservation notice. He said will call me again later. I decided to go back to ground floor to look for Tina. Luckily she is still there, Daniel also there. I asked her if she is aware that we can have free lunch. She said she will check with other event organisers. I told her I will be joining her for lunch.
When we goes up to 1st floor we came across 2 restaurants. A Thai & a Japanese. Tina decided to go in the Japanese Restaurant and we followed her. We are having our lunch there for free as DIGI ha
ve made reservation and paid for it. We are served with this soup and it is tasting good. I decided to take the picture. As I sat beside Tina, we are chatting as we ate. Around 3:23PM Jester called me back and asked if I want to join him. I said I am with Tina and the others at the moment. By the time we finished up the last food…. opps…! Only then I realised that I have forgotten to take the photos of the other foods! Ha! Ha! That is why you only see 1 soup picture here.
4:00PM I called up Jester to check if he have managed to gather together his team but just could not get him. I walked around the bus parking areas to look for the Number 1 bus but just could not find. Later I bumped into him as he is also looking for the bus. Finally we managed to find it at the back of a line of buses. I followed him up the bus and the Captain of the team have been doing name list checking just to see who have not yet arrived. Two people "missing!" The partners of these two people have been calling them up and informed them the bus location. About 10 minutes time they came. As I sure that everything is OK… I goes down the bus and a few more people have been asking me if they can board the bus. I asked them where is their bus… They said have already left and I allowed them to go up…. or else how they going back to the DIGI HQ? Well…. Since this is the last duty for me during the events, I can't "failed" right? The task is to assists the troops to board the bus back to DIGI HQ.
After the bus left, I goes down the car park to drive my car out and arrived at DIGI HQ (from 1 Utama) around 5 something and I saw Joel, Daniel, Jester and a few other guys waiting outside the guard house and I joined them. I asked them what we should do then. They said just wait for Tina to come back. So we sat there and wait. Tina and Ravi then arrived around 5:30PM We then just hang around as we need to give  something back to the event organiser.
Before leaving the HQ, Joel said he want to take a look at the office surrounding and he asked Tina to show us around. As we walked around, this mascot caught our attention. So we decided to take some photos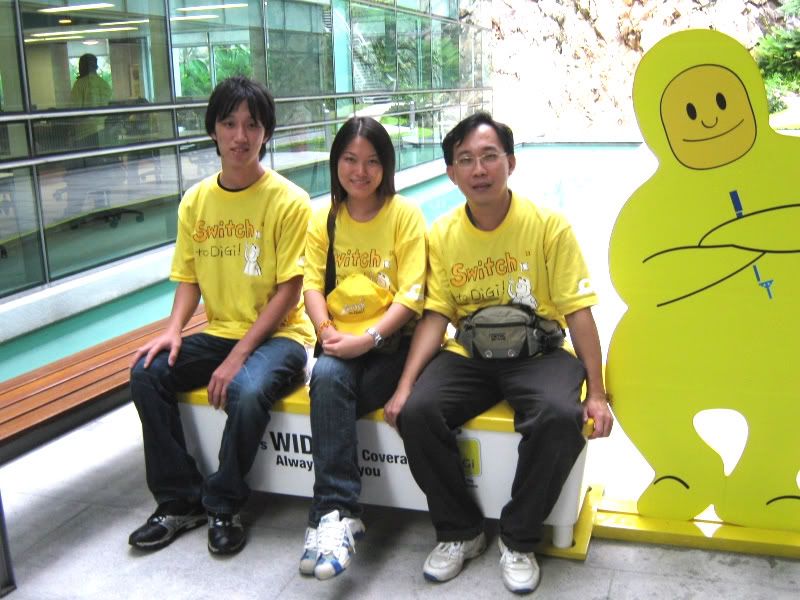 Joel, Tina & Myself
Tina seem to be attracted to this beautiful art in the office, so I asked her to stand there to get some snap shots, at least she have something to remember when seeing this picture.
We (Joel, Kiat Loong, Myself, Mei Ling & Mei Kuan) joined Tina to have a drink at the nearby mamak restaurant. We left around 7:30PM. As I am heading back to Wangsa Maju, I don't mind
drop Mei Ling & Mei Kuan at Taman Wahyu as we are heading the same direction. Mei Ling sat in front while her sister, Mei Kuan was at the back. I and Mei Ling chat all the way back while her sister fell asleep, maybe too tired. My legs also getting tired as we jammed crawling bumper to bumper. That the price to pay when driving manual gear car in Kuala Lumpur. Around 8:00PM, finally I reached Mei Ling's home. After dropped the sisters off, I drove back.
Somewhere at Batu Caves area at 8:09PM Tina SMS me to informed me that she just reached home. She said she is very tired because she only slept 3 hours yesterday. She also asked if the sisters safely reached home. At 8:20PM I stopped at the Shell Petrol Station Gombak and gave Tina a call just to tell her that I have just dropped the girls at their home and just half way back home. I told her that the traffic jammed made me more tired and  when back home want to bath then sleep.
After dinner, at home I SMS Tina to tell her that I just reached home. The traffic jammed make my legs damn tired. After bath I said want to sleep. I thank her to get me involved in this events. It is really a fun day for me. 9:18PM She replied, "Really? Hope you won't blame me to make your day tired
Anyway, 10x for your help! Take k and cheers! Please tag me in my pictures in d facebook ya. Gonna miss d day." I replied, "Surely will tag. Later, after rest! Ha! Ha!. No. Won't blame you. Actually looking for more event organise by you. It just fun!" And I dozed off till 11:00PM Later I woke up and editing those pictures and uploaded it to facebook. I tagged all Tina photos and do my blogging.