eBooks That May Interest You

After I drop off Carolina at her place, I drove back. I have stopped a while at Shell Petrol Kiosk (Karak Highway) to borrow the WC and then have a dinner at McDonald's nearby. A set of McNuggets (with Fried & Coca Cola) plus a cup of Strawberry Sundaes.
As I going to leave, I noticed that it is just 6.35PM and I guessed I still managed to buy Sport Toto and Magnum 4D Jackpot on time when I reach Taman Melawati. Well I still have the Millionaire dream. Never try never know your chance.
I reached Taman Melawati at 6:45PM Yes! It is true that I managed to buy both of these draws. Then as I am on the way back to Wangsa Maju I drop by Carrefour to buy something.
I took a notebook (RM 6.90) and a loaf of bread. When I looked at the price, it is unbelievable! RM 0.99? Really? Since the price hike on food items  recently (it can go up all the time and can never come down) it is impossible to find a loaf of bread that is around RM 1.00! Some more this is wholemeal bread. Do you believe that? I have to as the price is already there. As far as I knew, normal wholemeal bread can easily come to RM 3 or RM 4!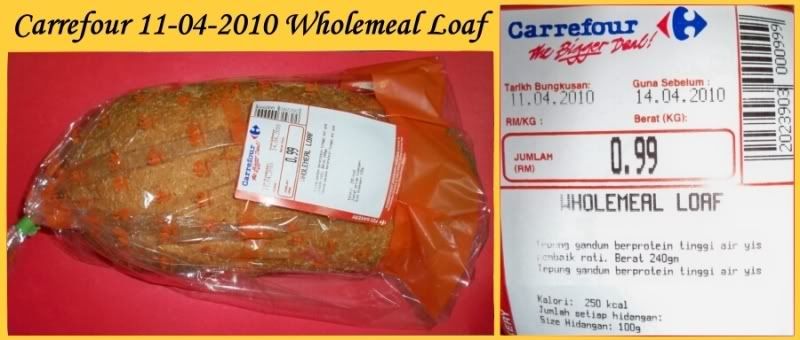 Well, I decided to buy it as I already have my dinner (just in case night time hungry still have something light to eat) When I walked to the Express Counter to make payment, I should pay (RM 6.90 + RM 0.99 = RM  7.90) but the bar coded scanned these items to total  RM 9.30 (RM 8.30 + RM 0.99 = RM 9.30) I asked the staff how much the notebook, he said RM 8.30 but I pointed to him that the sticker printed as RM 6.30! He called his supervisor to check and when the guy went, he never come back. I have waited there for 15 minutes but the supervisor never turned up. I am damn frustrated and told the cashier that I no longer want the notebook and I goes back home with the RM 1 bread.