Sunday, 21 November, 2010
Friday, 12 February, 2010
There is a vibration on my pant's pocket. I knew an email have arrived on my Blackberry mobile phone. I felt this vibration as I have set my phone to the vibration mode. It will be vibrated each time there are emails arriving. As I checked through the email I notice a name that is familiar to me. Caroline Fong Yen Chin! Wait a minute! Do I see it wrongly? I double checked again. Nope! I did not see it wrongly but a bit surprise. She sent this?
Then as I read… I noticed this
My favorite Love Quote at all times.
Find a guy who calls you beautiful instead of hot, who calls you back when you hang up on him,
who will lie under the stars and listen to your heartbeat, or will stay awake just to watch you sleep…
wait for the boy who kisses your forehead, who wants to show you off to the world when you are in sweats,
who holds your hand in front of his friends, who thinks you' re just as pretty without makeup on.
One who is constantly reminding you of how much he cares and how lucky he is to have YOU…
The one who turns to his friends and says, that's her… "
— Unknown
Enjoy your Valentines and be true to your loved one… Happy Valentine everyone…
Regards,
Caroline Shakira Fong
www.carolineshakira.com
This poem sounded familiar to me. I remembered that I have posted in my blogs before. If given me a choice, I want to be the boy that will kiss on her forehead, who will hold her in front of my friends,  who still think that she is pretty without make up on and finally who turns to my friends and says "That's her…" but this cannot happen because she don't choose me as the boy.
When I scroll up to the "To:" row, I found out a lot other email addresses. She 'bulk emailing' these to all her contacts just to promote the valentine dinner at the place she worked. On my phone I saw some attachments and when I opened it, I saw these.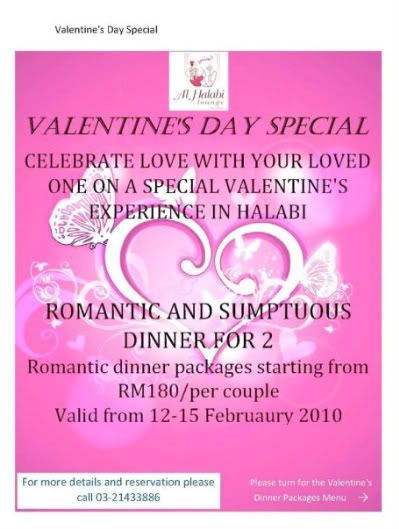 Then I came to know from her facebook that she designed and chosen these menu herself. If I have a choice I want to treat her these dinner….. but who am I for her. I never ever be her knight or prince charming. Life go on for me and I remained single every time when Valentine Day came.