eBooks That May Interest You

While blogging I am watching cooking program called "Table For Four" at TV2 where the guest for today show is Amber Chia and you can see her boobs cleavage (lurah longkang) being censored when she bent forward to do some cooking.
You will see this kind of censor most of the time at Malaysia TV especially those controls by BN government. You can't see what you want to see. Ha! Ha! This is the reason I seldom watch these channel (TV1 and TV2) unless I want to watch the news and some Chinese movies that I have not seen.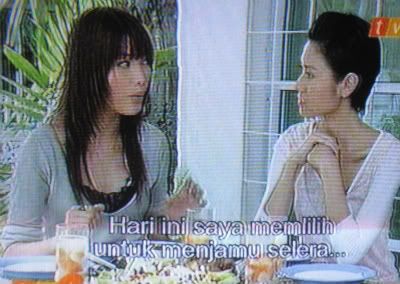 Sorry
I did not manage to snap the pictures of her boobs being censored as when I am grabbing for the digital camera, the cooking session is already over and she have sat down by the table. These are the original pictures (uncensored) and the clothing she wore during this program. Based on her clothing the censored being apply as when she bent forward to do cooking, some boobs cleavage can been seen as the camera crew is standing in front of her. If you want to see, use your imagination lah
If you are good enough you can even see her naked in your mind.