eBooks That May Interest You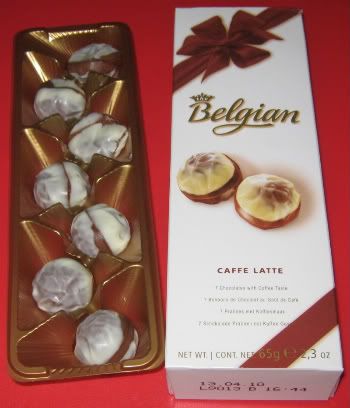 This box of chocolate was given to me by a friend. While waiting for the notebook system to upload, I have opened it  up. One by one  I put into my mouth. Within minute I have finished all the 7 chocolates!
and the system still loading!  This is the 1st time I tasted this type of chocolates. Yummy! Taste good!
What was printed on the front of the box. 7 Chocolates with coffee taste. (Printed on the back) Ingredients: sugar, vegetable fat, full cream milk powder, cocoa butter, cocoa mass, lactose, low fat milk powder, hazelnuts, low fat cocoa powder, emulsifier: soya lecithin, flavours: hazelnuts, vanilline, espresso, vanilla, whey powder. Milk chocolate: min 29.3% cocoa solid. White Chocolate: min 30.8% cocoa solids. May contain traces of other nuts and gluten. Store in a cool dry place. Net Weight 65g.
Imported by: Focus Network Agencies. No. 87 Defu Lane 10# 02-01 The Excalibur Building, Singapore 539219. Made in Belgium: The Belgian Chocolate Group, Geelseweg 72, 2250 Olen, Belgium. www.thebelgianchocolates.be