Saturday, 1 January, 2011
12:30PM after lunch, I drove to 1 Utama through MRR2 Kepong – Sungai Buloh Highway then cutting through Penchala to 1 Utama. I reached there at 1:00PM. As usual public holiday lead to massive jam to any shopping mall.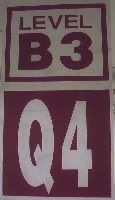 I goes inside the car park at 1 Utama and went around the area for a while but I could not find any empty space. Later I managed to find a way to 1 World and there are a lot of empty spaces there. Though it is a distance from 1 Utama, it is OK for me as long as I can find the parking space.
Shoppers used to take thing for granted and always try to find parking place that are near to the entrance. One thing they did not know is….  Does the spaces like this readily available for them during peak time?
I did not said it cannot be available but to get one really count on your luck. If you are lucky, you get it! If cannot, I don't see a problem to park a distance away instead of round and round the same area and wasted unnecessarily time.
After I parked the car and walked toward 1 Utama, I still saw those people rounding there. I guessed by the time they get the empty space I already walked the mall or maybe have reached the place I want to go.
I asked the receptionist where is the Central Park. He told me that just opposite the road and when I goes there I saw this at the exit of the main entrance.