eBooks That May Interest You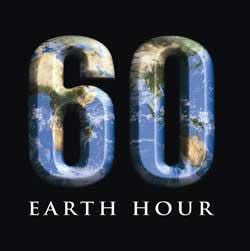 7:51PM It getting closer to 60 Earth Hour event. Many Malaysian will join other to switch off the light for an hour. Are you one of them? As I read on newspaper today, it even have an article to give you tips of what to do during the 1 hour of darkness.
I have some few suggestion as well.
For marriage couple I suggested you go to bed to make love…. at the same time to make baby. After 9 months of today, when the baby is born you announce to the world that this is a 60 Earth Hour Baby. He / She is here to save the world. He is a superman. She is superwoman.
If you are single, use this 1 hour of darkness to think over what you have done today that have helped to harm the earth?
Do I drove the car out today? Do I caught in the traffic jam? Do I smoke during the traffic jam? If yes, think of how many toxic pollutant I have released to the air.
If I say at home, do I cook breakfast, lunch and dinner? Do I used gas to cook? After cook, what do I used to wash the dishes? Detergent that may harmful to rivers and stream or biodegradable detergent that will save the environment?
Do I eat non organic food or organic food?
Do I go to shopping today? Do I bring along recycle bag or I still using plastic bag?
All this while have I ever recycle or just simply throw away things?
Will this 60 Earth Hour actually help save the world?
What I will do next after 9:30PM?
8:25PM It is time for me to sleep for an hour. So tired and I need some rest. Today I slept at 2:30am, wake up at 8:00AM, worked (part time) for 6 hours. Now a bit exhausted. I am not a superman so I can't save the world. But I still sleep with the light off. Do I support the 60 Earth Hour? You can be sure that I am. After 9:30PM I will wake up fresh. It will be good for me as I am driving back to Seremban soon.