eBooks That May Interest You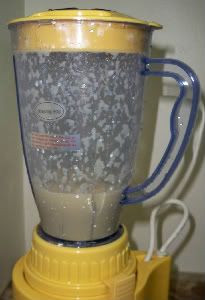 Woke up at 11:00AM today and preparing my breakfast and lunch. These what I have done
Boiling water on the kettle
Washing the pot and 2 eggs
Clean up the food blender
Pour in all the vitamin and supplement pills inside. (These supplements are from a branded company with more than 75 years of history) The taste will be very terrible if you used those vitamin & supplement pills from pharmacist shop.
Peeling off  2 apples skin, cutting it into small pieces and put it inside the blender.
Added Vanilla Drink Mix Powder, a bit of water and ON the blending machine. These jug contain more than 44+ vitamin  & minerals.
While blending machine doing it job, I pouring hot water on the eggs.
The blending machine stop an the Nutrition Breakfast is ready. Drank the nutrition drink while waiting for the eggs.
After finished with the drink, I took out one egg as half boiled egg, add garlic powder and ate it.
Continue cooking another egg on stove.
Cleaning up apples skin from sink, washing the blender & mug.
When the egg fully boiled, added garlic & five spice powder, a bit of light soy sauce. Mixed it all together and that is my lunch for today! Taste good and nutritious.
林海峰老師 (Lin Hai Feng) have said that we can eat 3 to 6 eggs per day. It is much better than eating too much carbohydrate foods (i.e rice, mee or bread) Eggs contain rich source of protein and other nutrients that are required by our body.
If you want to know more information on eggs, I may recommend you to read [Eggs Really ARE Incredible] & [Are Eggs A Good Source Of Protein And Can They Be Part Of A Healthy Diet?] And to search more on search engine use these keywords "nutrition on egg"