eBooks That May Interest You

I was at the Thean Hou Temple (天后宫 – Tokong Thean Hou) around 2:45PM to witness the Buddhist devotees celebration for Wesak day. This is the first time I did this though I have stayed at Kuala Lumpur for so many years. I have been aware of this events many years back. The problem is that I just don't bother to take a look. Why? Maybe lazy to go out, maybe have no strong reasons to go. Why now? Well, you have guessed it right! Yeah! Just because now I have my own blogs. I have reason to capture more pictures to be uploaded here. Another reason is that I want to do some praying especially on this special occasion. Or maybe give away some donation to help the poor.
After parked the car by the roadside, I walked up the hill slope and have this piture taken. It is near the main entrance toward the temple.
I saw a security guard there and enquirer him if there is any Wesak procession at the night time. He said  Thean Hou Temple did not organise such event but he told me that a temple at Brickfields will be having the procession tonight. I asked him which roads it will cover? He is not very sure about it. I thanked him for the information.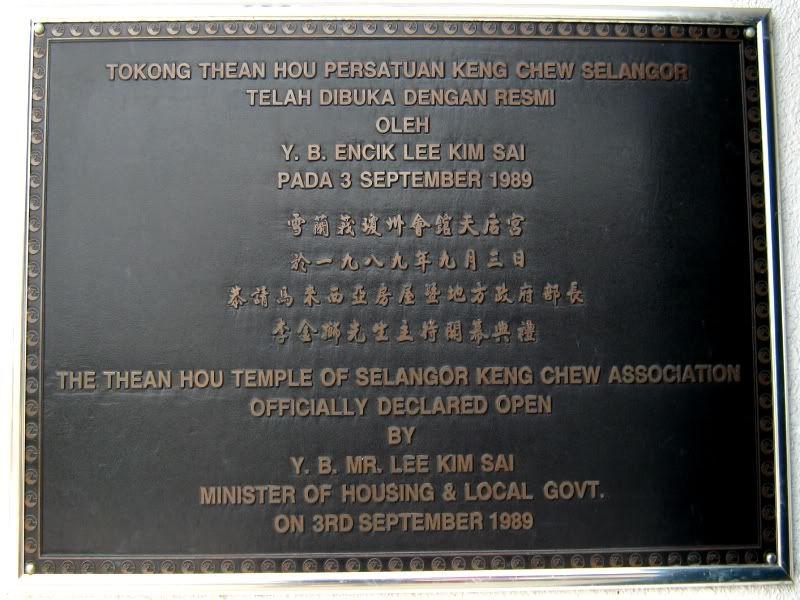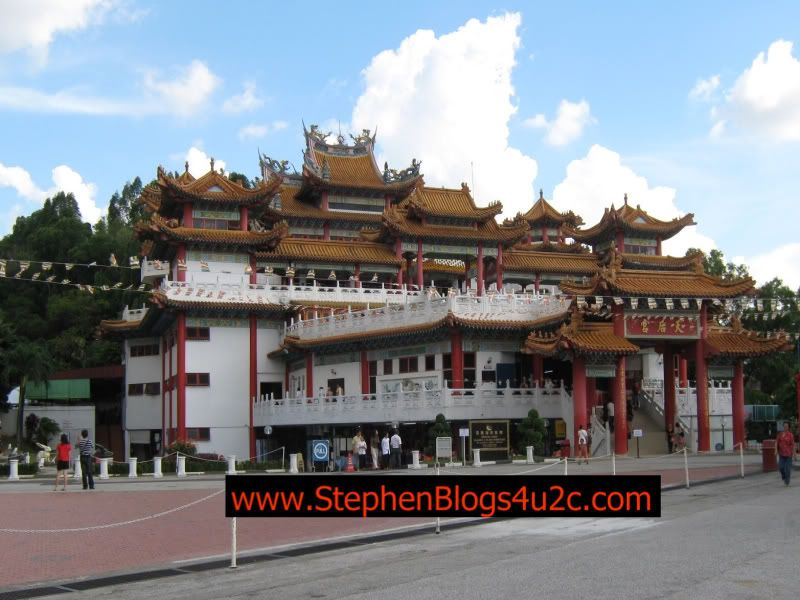 View From The Temple (Praying Area)
I used the stair cases to move up to the praying area of the temple and when I looked down from the place I stand, I find the view is nice so I decided to snap it down.
Then I goes to the praying area to do some praying, made some ($$$) donations to all those donation boxes around the temple. Even though not much money but it is still better than some people who never donate at all. The God definitely saw what I have done today and will bless me more prosperity in life. I earned more I will help more. After praying, I walked around and asked permission from the temple staff if I can take some pictures. She said yes and I go ahead snapping some deity statues pictures.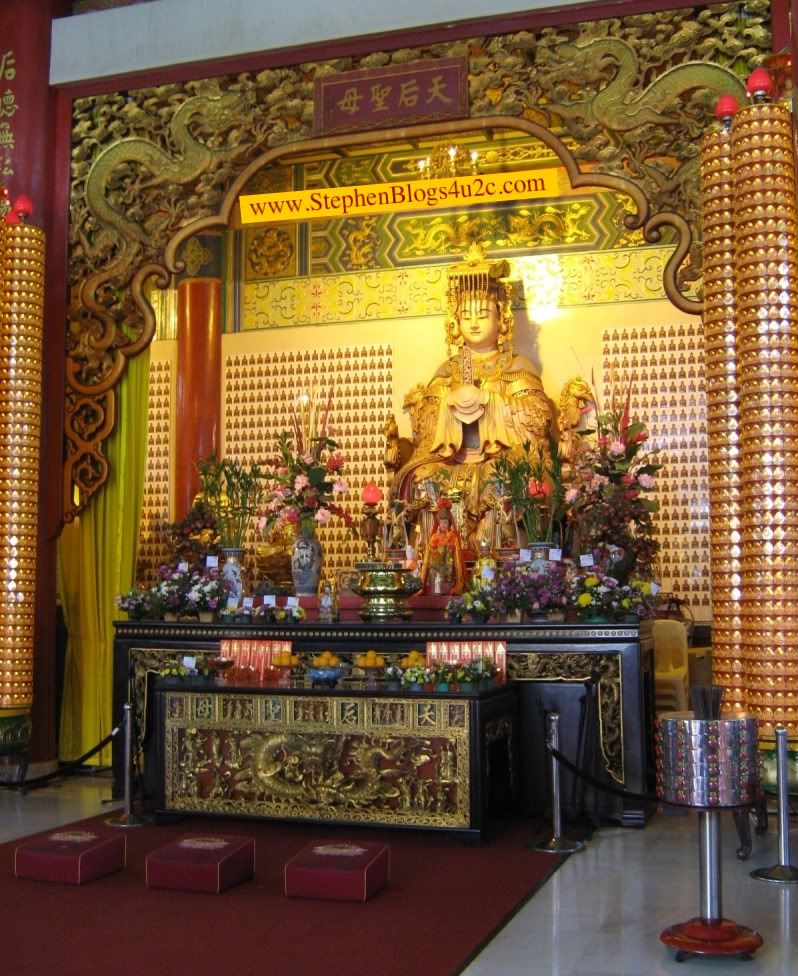 I noticed many people have made donation to get the offering light. According to the temple workers, I can make a wish too by light on the offering light! Well I think why not, believe or not the wishes being granted or come through is another matter. What important is do I have the pure heart to help needy people as I did not have the chances like this everyday. If I miss it now, I might need to wait for the other Wesak day next year. Why wait when I can do it now?
After making some wishes and placing the offering light on the altar, I move to the back of the temple to see what it have there.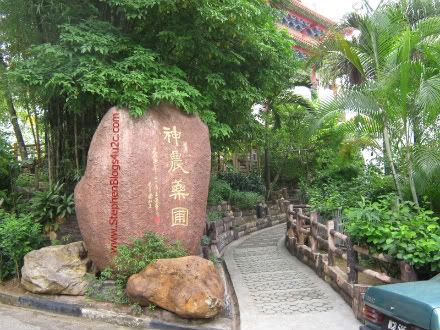 There a sign board stated "Herbal Garden & Tortoises Pond" and some stairs moving down to the garden and a pond. Curiosity always killed the ca
t, I just followed the path and true enough I passed by the Herbal Garden.  As I walked out of the garden, I noticed a large rock in front. I snapped some pictures. I noticed a couple (uncle & aunt) followed me from behind, I politely asked the uncle to help me snapped some pictures. He agreed and the picture at the left was taken by him. Hmm… he is quite good at it. No hand shaking, so I quite satisfied with it.
After the end of the garden, there is a pond full of tortoises. There are some children happily feeding the tortoises with some bread while the parents either just watching or taking some photos or videos.
Enough of the tortoises in the pond, I walked to the road side and the temple staffs are offering the devotees some free vegetarian meal & a bottle of mineral water. Since I have not eat anything before I come here, I did not let go the opportunity. I took the meal & water then sat down on the table & chair provided, slowly enjoying the meal.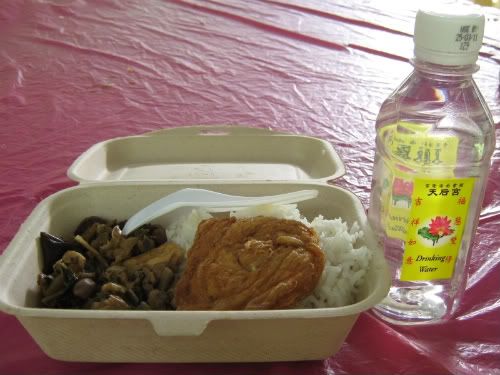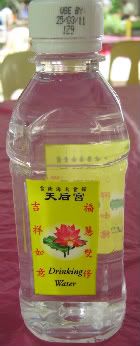 While enjoying the meal a lady came over my place and introduced herself as a volunteer worker from the Spastic Children's Association of Selangor & Federal Territory (SCAS & FT) to sell some cards as a donation for those children.
Since today is Wesak day, I just bought one without thinking twice. I just did what can I afford to do. RM10 might not a big sum of money to me but it will make a big different for these kids if any devotees contribute some.
Is this lady cheating? I hope not as she is in the temple and the God is watching her. If she does something bad, bad karma will soon return to her but if she really sincere helping those children then she will be blessed with good karma through her life. After the meal I walked up to the praying area and further snapped more pictures.
I managed to find the stairs toward the rooftop of the temple. I goes up there and saw this amazing view of yellow lanterns. To have one picture of myself here as remembrance, I asked the security guard to snap this for me.